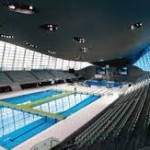 Olympic bronze medallist Tom Daley and three-time world champion Adam Peaty have thrown their support behind the London 2016 LEN European Aquatics Championships following a hugely successful pre-sale window which saw almost 10,000 tickets snapped up.
The historic Championships will run for two weeks from the 9th-22nd May 2016 at the iconic London Aquatics Centre at Queen Elizabeth Olympic Park and feature synchronised swimming, diving and swimming with tickets now to be released for general sale at 9am on Tuesday September 15.
The London Aquatics Centre is home to some of Daley and Peaty's greatest ever achievements and next year's European Championships is set to be the biggest event to be held at the venue since the 2012 Olympic and Paralympic Games.
Daley claimed his historic Olympic 10m platform bronze medal on the boards in London in 2012 while Peaty smashed a new world record of 57.92 seconds in the pool in the 100m breaststroke back in April.
Both also achieved success at the 2015 FINA World Aquatics Championships in Kazan last month with Daley winning team event gold with Rebecca Gallantree and 10m platform bronze and Peaty claiming gold in the 50m and 100m breaststroke events as well as the mixed 4x100m medley relay.
With tickets for the Championships available from 9am on Tuesday September 15 at www.euroaquatics2016.london, Daley, who won gold at the London leg of the 2015 Diving World Series in May, wants his British fans to turn out in force.
"To compete at a European Championships in London, ahead of the Rio 2016 Olympic Games, is going to be very special for me. I train at the London Aquatics Centre every day, and love competing there," he said.
"It was great diving in London at the World Series leg back in May, that competition set me up well for the World Championships. British Diving is in a great place at the moment and, after the success at the World Championships, it's going to be great to showcase our talent on home soil to the passionate British fans. Your support will be invaluable!"
Britain enjoyed their best ever World Championships performance in Kazan with four medals in diving and nine in swimming while Europe collected a best ever 81 across synchronised swimming, diving and swimming.
Four-time European champion from 2014 Peaty, who set a new world record of 26.42 on route to his 50m breaststroke world title last month, says returning to London in May will be the perfect preparation for a potential Olympic debut in Rio.
"The past two years have been incredible and I am very excited about the opportunity to return to European action on home soil ahead of the Rio 2016 Olympic Games," he said.
"I have great memories of the London Aquatics Centre after breaking the 100m breaststroke world record there in April ahead of the World Championships in Kazan, and I am absolutely delighted with what I achieved there.
"I'm really excited about next year and the prospect that my closest rivals will be chasing me. I am going to continue working hard during the winter to ensure that I'm in the best shape possible to compete in front of a home crowd in London and then at my first Olympic Games.
"The pool in London is fast and the atmosphere when I broke the world record in April was amazing. I am so grateful for the support I receive in Britain and to stand on the blocks in London with the fans behind me is something I don't want to miss."
The Championships will feature three historic firsts with mixed synchronised swimming and mixed synchronised diving competitions introduced as well as four combined synchronised swimming and diving morning sessions.
Over 900 athletes are expected to compete at the first European Aquatics Championships to be held in the UK Since 1993.
The London 2016 LEN European Aquatics Championships will be delivered in partnership with British Swimming, London & Partners, London Legacy Development Corporation and the Mayor of London. The Championship is part of UK Sport's National Lottery backed #EveryRoadtoRio campaign, helping Britain's athletes prepare for the Rio Olympic and Paralympic Games.